Lighting Systems

Creating emotions with spectacular shows
Club Lighting
Lighting has become a massive part of the late night and entertainment industry. With an almost limitless number of possibilities available, systems can be as complex or as simple as required. The recent explosion in LED lighting technology has massively expanded the uses of lighting systems and the ability to turn simple light fittings into features.
LED systems can be very versatile and create some stunning features, but normal effects lights should never be overlooked. Moving heads, scanners, lasers, moonflowers, strobes and many other effects have been used for many years in nightclubs and late night venues, and will continue to be one of the most effective ways of producing a great light show.
LED Ceilings & Panels
Covering large areas used to be a very expensive procedure, but with new products and systems becoming available we can transform large areas into canvasses with the ability to bring a venue to life.
Video content and graphics can be shown in all sorts of areas using new LED technologies, including irregular shapes and curves.
LED Furniture
One of the most important things in a new venue is making it interesting for a customer. Anyone can put a bar, tables and chairs together to make it operational, but to make it stand out requires something extra.
Enter the world of illuminated furniture and objects!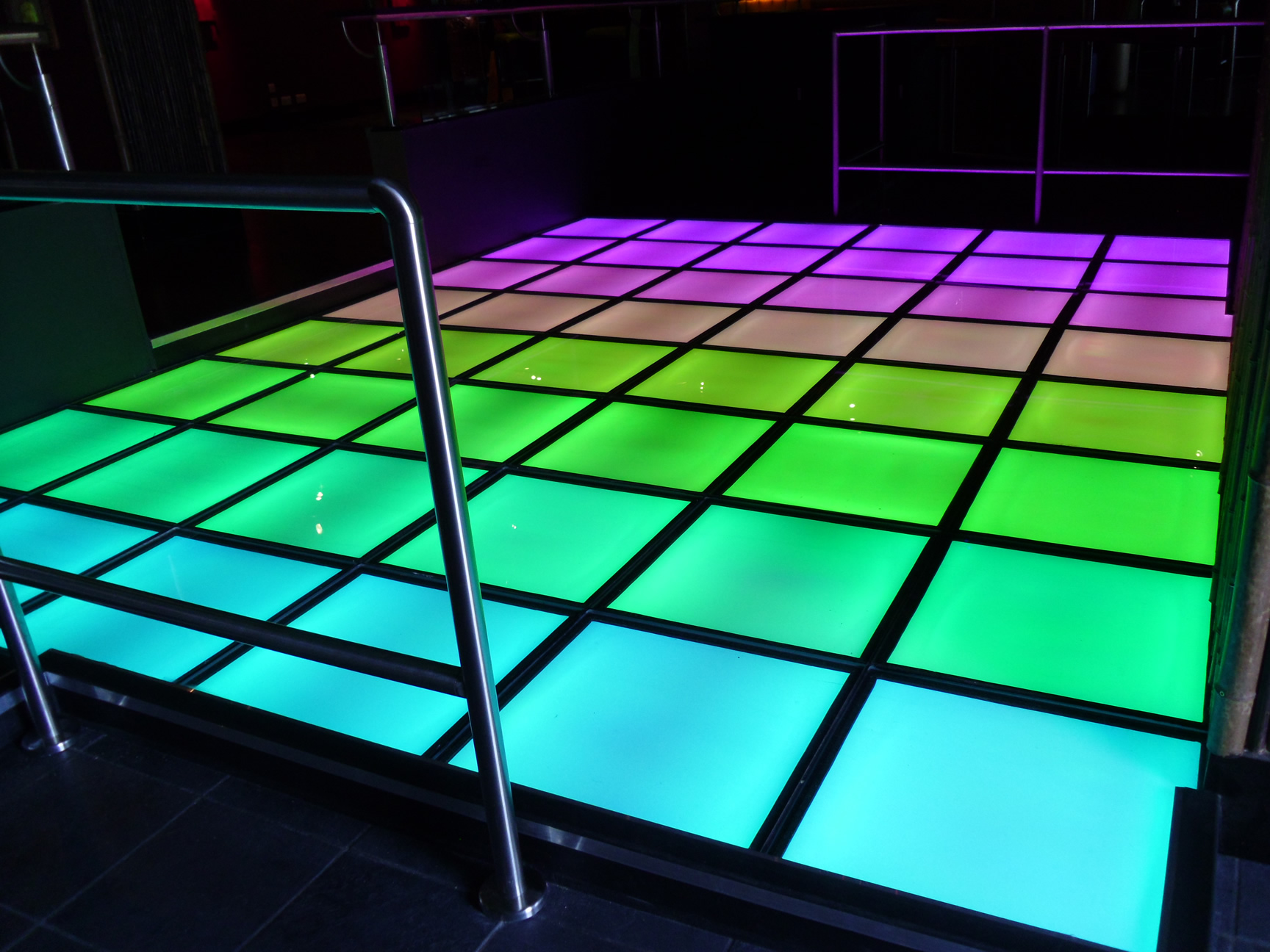 LED Dancefloors
Bringing back the retro look in style! We offer different types of dancefloors to suit various venues, from 70s style nightclub floors, to sparkling wedding venue panels, and full motion video floors.
Building & Outdoor
One of the most effective ways of making your business stand out is to have your building changing colour! Exterior wall and building washing is a striking effect which will attract attention from any passers by.
With units becoming brighter and brighter, and prices coming down, LED washes provide a simple option for outdoor colour flooding.
Theatre Lighting
We offer a range of various stage lighting systems that can cater for many applications including theatres, school halls, amateur dramatic societies and productions. Whether it be a new installation, or the conversion from old halogen style lighting, we can help put together a suitable system to get the best of your venue.